Brett Parbery's Flagship Training Program
Dressage Breakthrough
Train with focus, compete with ease, and taking your riding to a whole new level.
Dressage Breakthrough is a powerful and proven 7-module course to intensively learn Brett Parbery's training system and empower you to confidently train either with a coach or by yourself.
With weekly lessons and live coaching workshops with Brett, supported by expertise when you need it in the private study group, this program is a game-changer for competition level dressage riders.
700+ dressage riders are training more effectively, increasing their scores, and moving up the levels.
Now, it's your turn.


⭐️⭐️⭐️⭐️⭐️
"The best investment I've ever made" - Laura
"This program blew my mind" - Liz
Click here to join
Course Structure
All with lifetime access
Brett's game-changing dressage training program
Learn a system of training your horse including Brett's entire training system broken down in a way you will eventually turn into your own system, in your own words, that you can use in every training session and competition.
Gain new awareness about your aids including conflicting aids and refinement of timing and application to make your communication much more clear to your horse
Understand the biomechanics of your horse so you know when and how your actions are influencing your horse.
Become confident to train by yourself and stop sabotaging your efforts because you don't have as much access to trainers that you'd like to have.

And you'll be able to achieve all of this with a huge extra invaluable resource... BRETT and his A-team!
Unlike other courses and programs that leave you without so much as an email address to reach out to... Brett and his team are with you throughout the entire program.
7 Lesson Modules
On Fridays from 27 Jan you'll receive your weekly lesson module, each covering one topic from the training system. Each of the seven lesson modules contains a combination of video, audio, and workbook.
7 Live Seminars
Eoin Brett live at 7pm AEDT Wednesdays from 1 Feb for discussion on the topic of the week and to have your questions answered. Seminars are all recorded so you can catch up later (or watch again).
Training Support
Our Program Trainer, Grand Prix CDI Winner Emma Weinert provides training support in the Facebook group, and you have a dedicated program mentor and support team to help you with anything you need.

Week 1: Training Structure
Week 5: Applying the System
Week 6: Rider Effectiveness
Week 7: Performance Optimisation
+ Group workshops and support
PRINCIPAL TRAINER
Brett Parbery
The pinnacle of Brett's dressage achievements was in 2010, in which he finished 10th in the World Cup Final, 6th at Aachen CHIO, 3rd at Rotterdam CHIO and winning the Grand Prix Special at Hickstead. With his top horse Victory Salute, an Australian horse bred and owned by Carolyn Lieutenant, Brett completed the 2010 season with an 8th place at the World Games in Lexington, Kentucky.
Brett has over 30 individual Australian Championships under his belt across all levels including 4 x Australian Grand Prix Champion. He has also represented Australia at the World Games in Tryon 2018. In 2008 and 2016 Brett earned a spot in the final 5 for selection to the Olympic Games, with misfortune on each occasion denying the opportunity. At the London Olympics, Brett was on staff as the Dressage Coach to the Australian Eventing Team and after dressage had the team well positioned in 1st place over all 5 team scores.
Having trained extensively with the world's best trainers including Ulla Salzgeber and Hubertus Schmidt, Brett has curated his own rider and horse-friendly system that he teaches here under the Performance Riders umbrella.
PROGRAM TRAINER
Emma Weinert
When Grand Prix CDI 3* winner Emma wrapped up her 12 years training and working alongside Olympian Steffen Peters in California, we snapped her up in an instant! Emma's passion, enthusiasm and encouragement is surpassed only by her profound knowledge of training dressage horses.
With an eye for detail, Emma provides exceptional expert feedback for riders in both Dressage Breakthrough and the Gold Program.
KAVITA
I'm so glad I invested the time into this course!
Dressage can be so complex and technical but I've come away from the course clearly understanding the underlying concepts and the ways to implement changes to my riding to achieve the concept of dressage.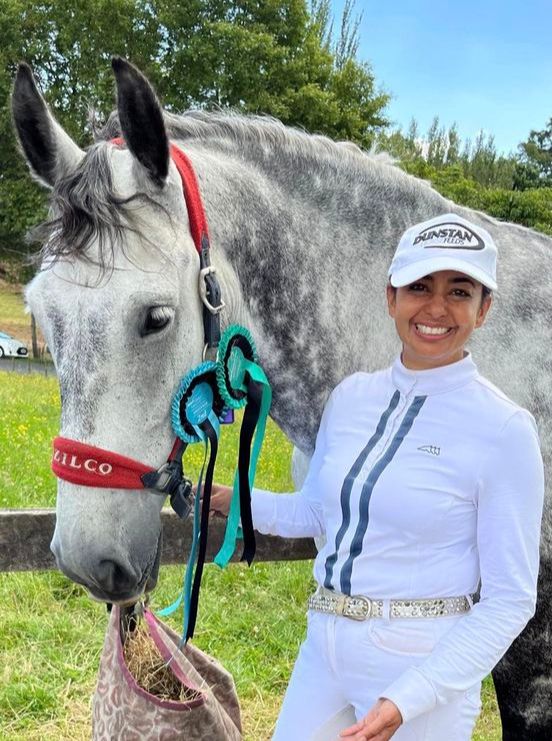 FIONA
Totally love the program
All the nitty gritty, and small details that most instructors gloss over and I have been missing in my training have been found and my horse and I have come along in leaps and bounds improving our dressage score by nearly 5%! I have a much better understanding of what I've been missing and look forward to continuing to learn more.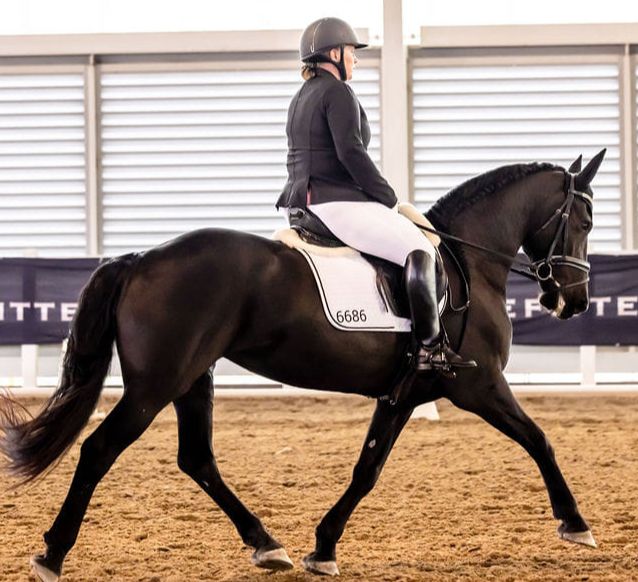 2023 LIVE ROUND
Join Dressage Breakthrough
7 day money-back guarantee
We are confident that you'll love this program and it will change the way you train and compete… but if you're feeling uncertain, you can rest assured that we have an iron-clad guarantee that makes this a 100% no-risk investment.
If you try out the program and decide that it's not for you, just let us know within 7 days of course commencement and we'll refund 100% of your tuition – no questions asked, no hard feelings, nothing but well wishes.
That's how confident we are in the quality of this program!
Join now and feel confident in your decision with our 7 Day Guarantee.
What level of rider is this program for?
Do I get face-to-face support?
How much time each week will I need to devote to the Program?
Am I good enough to work with Brett?
I do (or don't) have a coach, does that matter?